Men's Wellness and Sexual Health Clinic in Florence, AZ
Best Men's Wellness and Sexual Health Clinic in Florence, Arizona 
For any man who lives in Florence, Arizona, Limitless TRT & Aesthetics is the best place to go for men's health and overall wellness when looking for help with the symptoms of erectile dysfunction (ED). Focused shockwave therapy is a newer innovation that many men suffering from ED can regain their focus on life and enjoy it as they should.
Shockwave therapy provides a myriad of benefits that include discomfort, pain, and miscellaneous physical issues. Many scientific studies point to shockwave therapy as a strong candidate for the male audience, especially those living with ED. Erectile dysfunction can affect 40% of men by the age of 40 and 70% of men by the age of 70.
If this sounds like you, then you may want to contact the professional services of Limitless TRT & Aesthetics located in Florence, Arizona. We provide professional and medically trained technicians that can answer all of your questions about ED and Focused shockwave therapy.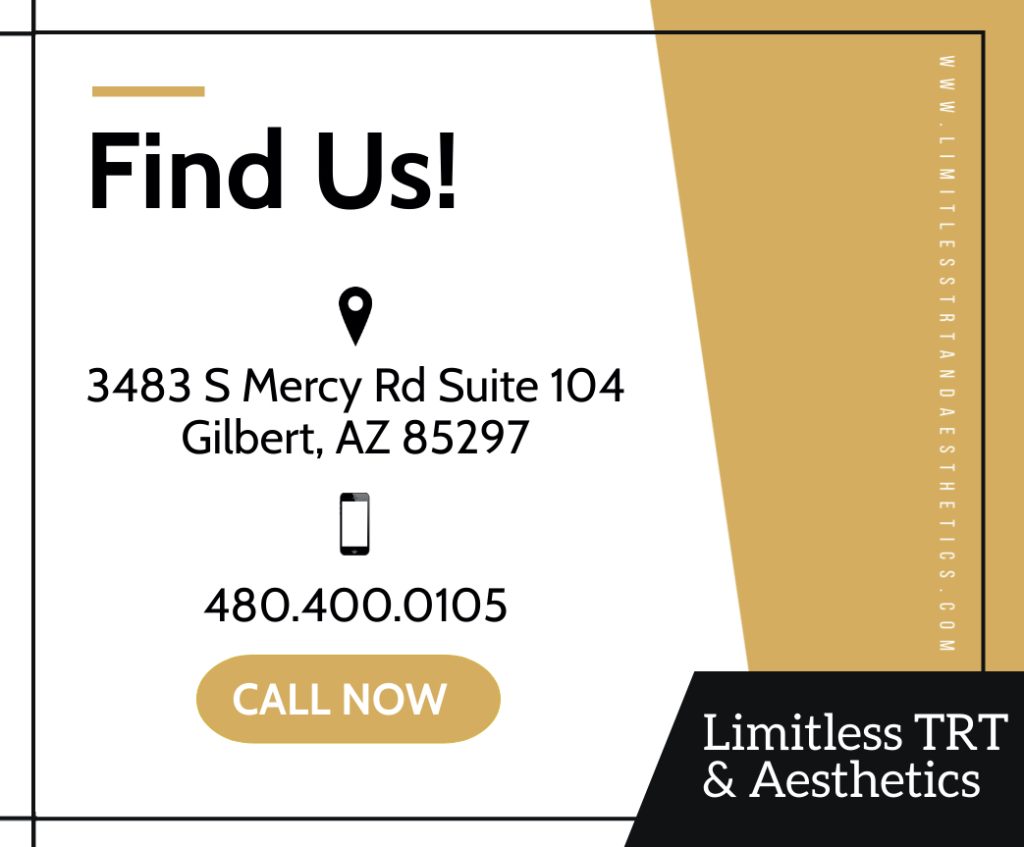 TRT-Testosterone Replacement Therapy
Testosterone Replacement Therapy (TRT) is also known as androgen replacement therapy and is primarily used to help with low testosterone levels and is called low T in most areas of men's health. Here at Limitless TRT & Aesthetics in Florence, Arizona, we have the best low T treatment solutions and expert and professional facilities.
TRT can occur with medical conditions as a result of age and is becoming more mainstream by the day as a popular medical treatment solution. It enhances sexual performance, builds muscle mass for weight lifters, and provides higher energy levels.
Non-Surgical Treatment For Male Enhancement
Limitless TRT & Aesthetics, LLC is dedicated to the improvement of men's health and wellbeing. We understand that male enhancement is a sensitive and private matter to discuss and treat.
Having a small penis can negatively impact a man's confidence and self-esteem. Our providers and enhancement specialists are proud to provide non-surgical, minimally invasive in-office male enhancement in Gilbert, AZ.
This treatment does not require general anesthesia, scalpels, or stitches.
We specialize in penile girth enlargement, penile glans (head of the penis) enlargement, and scrotal enhancement. And best of all, these procedures deliver permanent results with minimal downtime.
Focused Shockwave Therapy
For men in Florence, Arizona, searching for focused shockwave therapy, Limitless TRT & Aesthetics is where most men suffering from erectile dysfunction (ED) find solutions that work. Focused shockwave therapy is an innovative and non-pharmaceutical treatment known as low-intensity extracorporeal shock wave therapy (LI-ESWT).
It's a non-invasive treatment solution that many men in Florence, Arizona are turning to as opposed to prescription medications that can come with a variety of side effects. LI-ESWT works on the premise of focused beams of shockwaves and is directed at the male genital.
Cryolipolysis
Limitless TRT & Aesthetics in Florence, Arizona is where men are finding effective treatment solutions by utilizing a procedure called cryolipolysis. Cryolipolysis is achieved by using a roll of fat sandwiched between two panels, freezing the fat to temperatures that freeze.
Modern-day research suggests that cryolipolysis reduces fat layers as much as up to 25 percent in the body. Most patients report a reduction in fat in about 3-4 weeks and see even better results in approximately 8 weeks with 90% of targeted fat cells eradicated. The full effects of Cryolipolysis may take up to 6 months to achieve the desired results.
Brotox Treatment
People of all ages are discovering the benefits of Brotox treatments at Limitless TRT & Aesthetics in Florence, Arizona. Brotox treatment injections work by blocking isolated chemical signals from the nerves that cause the muscles in our bodies to contract.
Some of the most commonly used Brotox injections are used to relax the wrinkle around the eyes and forehead as well as facial muscles and lips. Here at Limitless TRT & Aesthetics, we provide the best Brotox treatment injections with the utmost in patient care and satisfaction.
Sexual Performance / Erectile Dysfunction
When it comes to sexual performance and erectile dysfunction (ED), Limitless TRT & Aesthetics in Florence, Arizona, has the best treatment solutions for those suffering from ED. Sexual performance occurs when men's health problems cause a lack of sexual desire and are often associated with ejaculation or orgasm issues.
Men living in Florence, Arizona, can find help at Limitless TRT & Aesthetics to increase or maintain an erection, making sexual performance better and longer-lasting. It's not uncommon for middle-aged men to experience ED. Don't let ED stop you from enjoying life with your spouse, call us today and get a free consultation.
Facial Fillers
Facial filler is a type of hyaluronic injectable acid filler, and men in Florence, Arizona, can get the best treatments at Limitless TRT & Aesthetics. There are several types of facial fillers including Voluma, Volella, Vollure, Ultra, and Ultra Plus. They all vary in elasticity and thickness of the products used.
Here at Limitless TRT & Aesthetics, we can help create a better definition of the jawline and cheekbone with more effective practices that add volume to lips or cheeks while adding hydration to the skin. Facial filler products are known to have low rates of side effects and metabolize over time with results lasting up to 18 months.
Concierge Medicine
Limitless TRT & Aesthetics in Florence, Arizona are professional concierge doctors and do exactly what your primary health care provider can do for you. We conduct annual physical exams, administer lab tests, and provide diagnostic screenings for urgent to minor skin care services such as stitches and skin health care conditions.
Let our concierge medicine doctors manage all of your skincare aspects with a more cost-effective solution. Our concierge doctors services in Florence, Arizona provide residents with a longer visit, ensuring the best methods are applied.
Limitless TRT & Aesthetics