Testosterone Therapy Clinic in Chandler, AZ
Best Men's Wellness and Sexual Health Clinic in Chandler, Arizona 
For any man who lives in Chandler, Arizona, Limitless TRT & Aesthetics is the best place to go for men's health and overall wellness when looking for help with the symptoms of erectile dysfunction (ED). Focused shockwave therapy is a newer innovation that many men suffering from ED can regain their focus on life and enjoy it as they should.
Shockwave therapy provides a myriad of benefits that include discomfort, pain, and miscellaneous physical issues. Many scientific studies point to shockwave therapy as a strong candidate for the male audience, especially those living with ED. Erectile dysfunction can affect 40% of men by the age of 40 and 70% of men by the age of 70.
If this sounds like you, then you may want to contact the professional services of Limitless TRT & Aesthetics located in Chandler, Arizona. We provide professional and medically trained technicians that can answer all of your questions about ED and Focused shockwave therapy.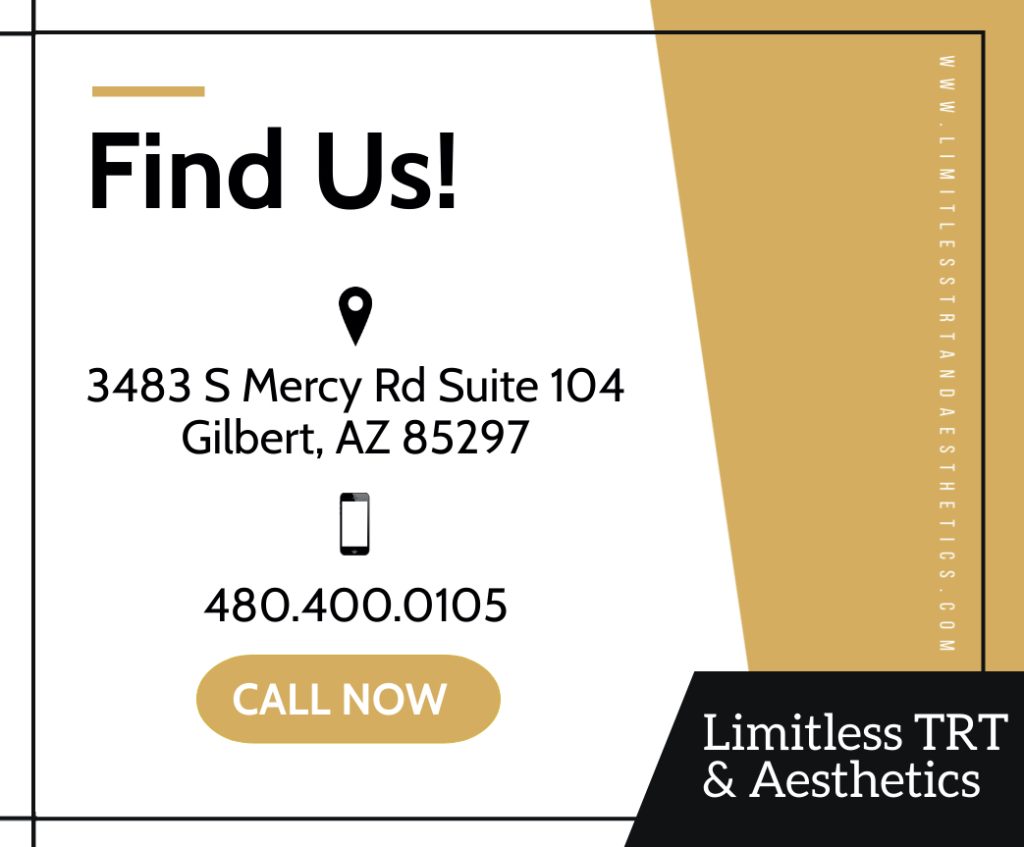 TRT-Testosterone Replacement Therapy
Testosterone Replacement Therapy (TRT) is also known as androgen replacement therapy and is primarily used to help with low testosterone levels and is called low T in most areas of men's health. Here at Limitless TRT & Aesthetics in Chandler, Arizona, we have the best low T treatment solutions and expert and professional facilities.
Testosterone pellets are a specialized service provided by Limitless TRT & Aesthetics. These pellets are small in size, measuring 3mm by 9mm, and contain crystalline testosterone. The procedure involves implanting the pellets under the skin, typically near the hip, during a short and simple visit. The pellets serve as a long-acting form of testosterone therapy, gradually releasing testosterone over 3 to 6 months. This results in a stable and steady dose of testosterone, which is maintained for approximately 4 months.
TRT can occur with medical conditions as a result of age and is becoming more mainstream by the day as a popular medical treatment solution. It enhances sexual performance, builds muscle mass for weight lifters, and provides higher energy levels.
Female testosterone therapy is a beneficial treatment that can improve women's health and happiness. Testosterone, often associated with masculinity, actually plays a significant role in mood, energy levels, and overall well-being. If you are experiencing symptoms of low testosterone, such as low sex drive or fatigue, female testosterone therapy may be a suitable option. This therapy aims to correct hormone imbalances, particularly in cases of hypogonadism, where the body produces insufficient testosterone.
Testosterone is crucial for women's sexual function, bone density, muscle mass, and overall vitality. As women age or enter perimenopause, testosterone levels naturally decline, leading to various symptoms often attributed to this phase of life. However, many of these symptoms are actually caused by low testosterone. Female testosterone therapy can address these symptoms and help boost libido, support reproductive health, and improve emotional well-being.
Non-Surgical Treatment For Male Enhancement
Limitless TRT & Aesthetics, LLC is dedicated to the improvement of men's health and wellbeing. We understand that male enhancement is a sensitive and private matter to discuss and treat. 
Having a small penis can negatively impact a man's confidence and self-esteem. Our providers and enhancement specialists are proud to provide non-surgical, minimally invasive in-office male enhancement in Gilbert, AZ. This treatment does not require general anesthesia, scalpels, or stitches. 
We specialize in penile girth enlargement, penile glans (head of the penis) enlargement, and scrotal enhancement. And best of all, these procedures deliver permanent results with minimal downtime. 
The P-Shot offers a safe and natural solution for improving sexual performance and well-being. Whether you're dealing with issues like erectile dysfunction, small penis size, or diminished sexual performance, the P-Shot can help. Compared to other treatments like Trimix injections, the P-Shot offers longer-lasting results with fewer side effects. Additionally, we offer P-Shot 50 and P-Shot 100 procedures, combining PRP with 50 or 100 units of Botox, respectively, to further enhance sexual function and satisfaction. 
Focused Shockwave Therapy
For men in Chandler, Arizona, searching for focused shockwave therapy, Limitless TRT & Aesthetics is where most men suffering from erectile dysfunction (ED) find solutions that work. Focused shockwave therapy is an innovative and non-pharmaceutical treatment known as low-intensity extracorporeal shock wave therapy (LI-ESWT).
It's a non-invasive treatment solution that many men in Chandler, Arizona are turning to as opposed to prescription medications that can come with a variety of side effects. LI-ESWT works on the premise of focused beams of shockwaves
Sexual Performance / Erectile Dysfunction
When it comes to sexual performance and erectile dysfunction (ED), Limitless TRT & Aesthetics in Chandler, Arizona, has the best treatment solutions for those suffering from ED. Sexual performance occurs when men's health problems cause a lack of sexual desire and are often associated with ejaculation or orgasm issues.
Men living in Chandler, Arizona, can find help at Limitless TRT & Aesthetics to increase or maintain an erection, making sexual performance better and longer-lasting. It's not uncommon for middle-aged men to experience ED. Don't let ED stop you from enjoying life with your spouse, call us today and get a free consultation.
IV therapy, also known as intravenous drip therapy, is a beneficial method for enhancing health and well-being. By delivering fluids, vitamins, minerals, and nutrients directly into the bloodstream, IV therapy offers numerous advantages such as increased energy levels, improved digestion, better moods, and more. At Limitless TRT & Aesthetics in Gilbert, AZ, we specialize in IV therapy services. Whether you seek a Myers Cocktail, a Glutathione IV, or other tailored treatments, our experienced team can help you achieve optimal health. 
The facial filler is a type of hyaluronic injectable acid filler, and men in Chandler, Arizona, can get the best treatments at Limitless TRT & Aesthetics. There are several types of facial fillers including Voluma, Volella, Vollure, Ultra, and Ultra Plus. They all vary in elasticity and thickness of the products used.
Here at Limitless TRT & Aesthetics, we can help create a better definition of the jawline and cheekbone with more effective practices that add volume to lips or cheeks while adding hydration to the skin. Facial fillers products are known to have low rates of side effects and metabolize over time with results lasting up to 18 months.
Limitless TRT & Aesthetics in Chandler, Arizona are professional concierge doctors and do exactly what your primary health care provider can do for you. We conduct annual physical exams, administer lab tests, and provide diagnostic screenings for urgent to minor skin care services such as stitches and skin health care conditions.
Let our concierge medicine doctors manage all of your skincare aspects with a more cost-effective solution. Our concierge doctors services in Chandler, Arizona provide residents with a longer visit, ensuring the best methods are applied.
People of all ages are discovering the benefits of Brotox treatments at Limitless TRT & Aesthetics in Chandler, Arizona. Brotox treatment injections work by blocking isolated chemical signals from the nerves that cause the muscles in our bodies to contract.
Some of the most commonly used Brotox injections are used to relax the wrinkle around the eyes and forehead as well as facial muscles and lips. Here at Limitless TRT & Aesthetics, we provide the best Brotox treatment injections with the utmost in patient care and satisfaction.
Limitless TRT & Aesthetics